You might have a nightly skincare routine, but did you know that your hair would also benefit from a nightly haircare routine? That's right, once you've cleansed, smoothed on your serum, and moisturized, you want to be turning to your tresses in order to ensure they have the healthiest overnight routine possible.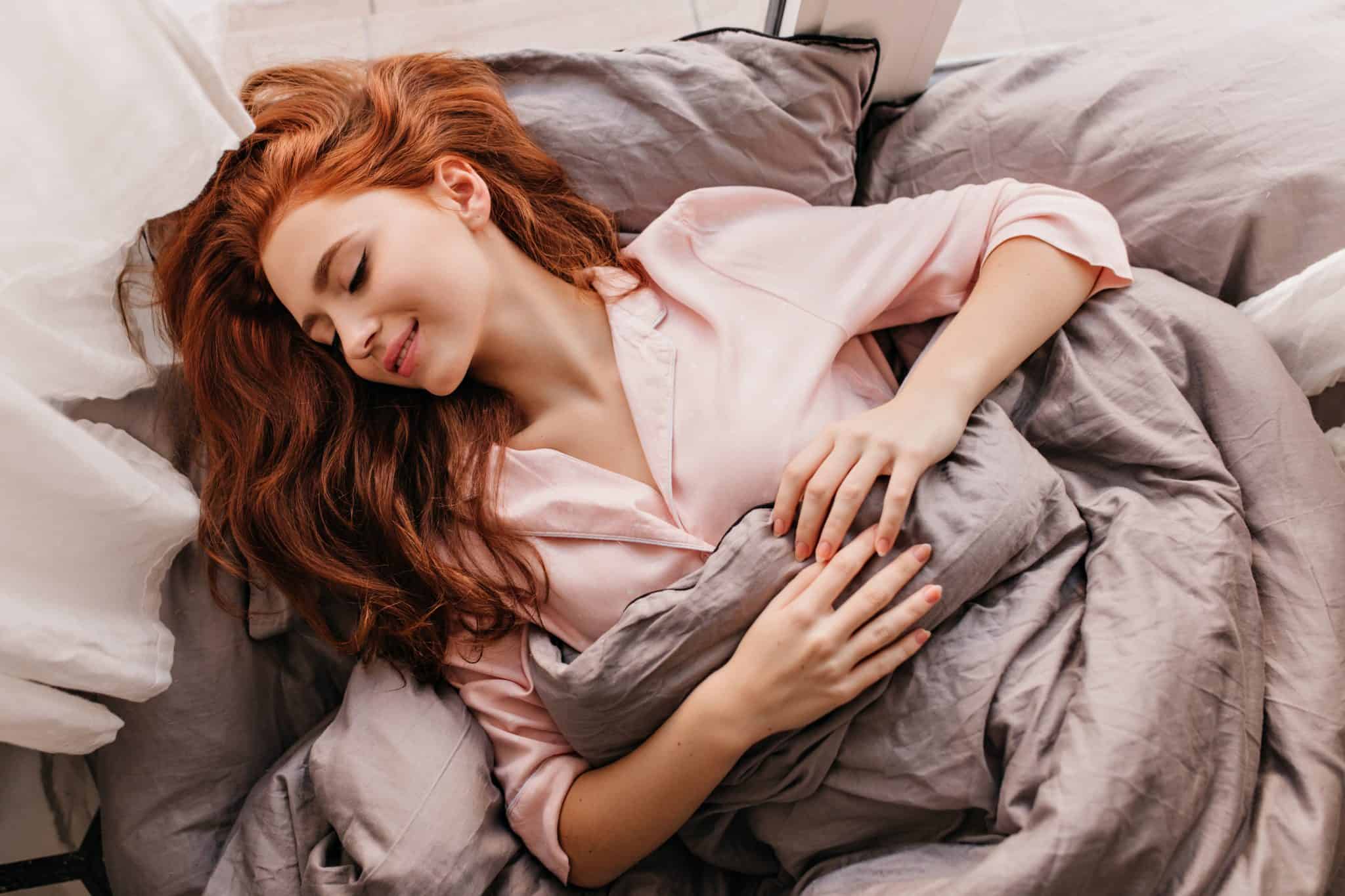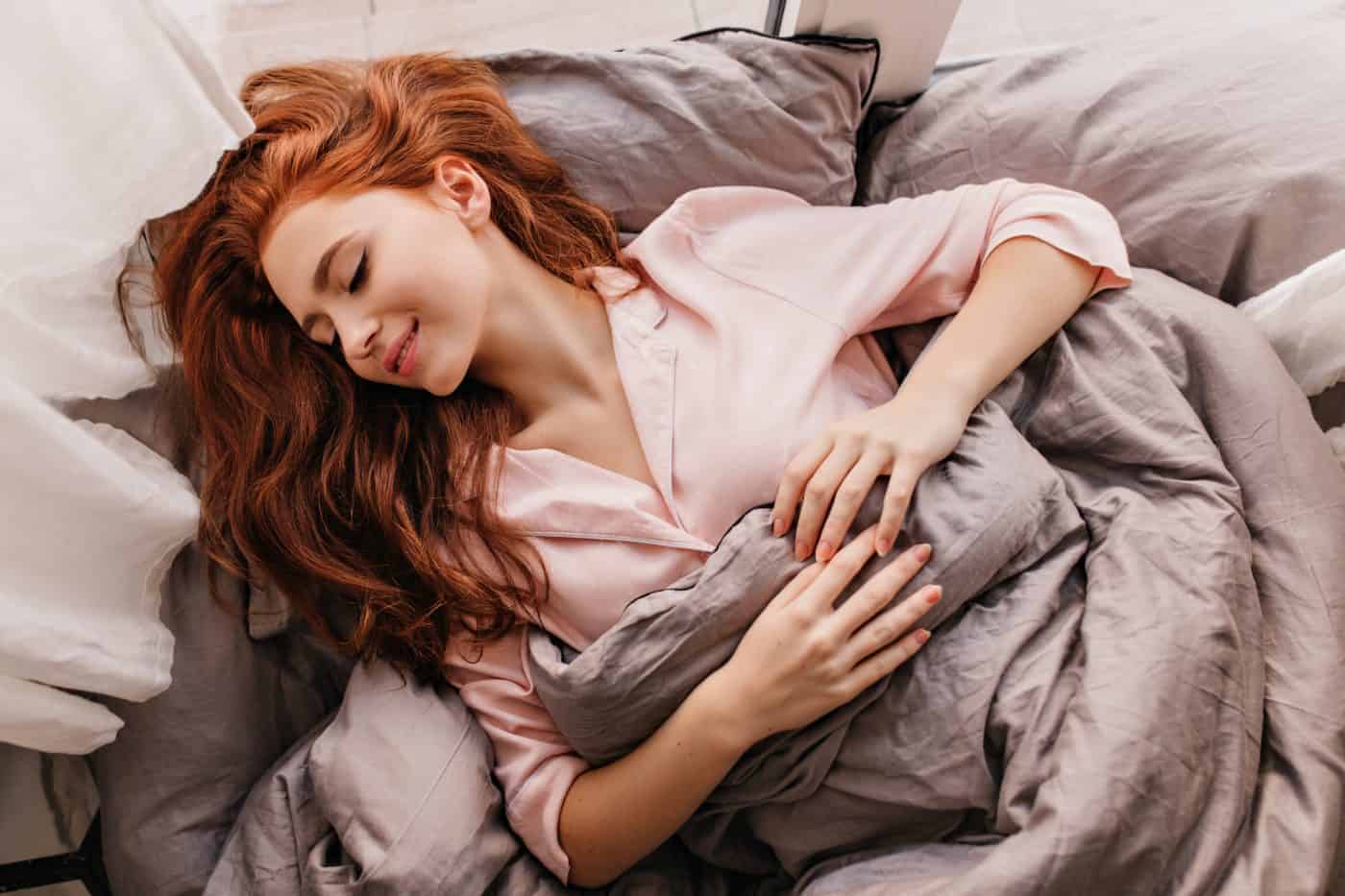 How you should wear your hair to bed will vary depending on whether your hair is curly or straight. However, there are a few key steps that you can incorporate into your daily routine to ensure that your hair gets the beauty rest it deserves.
And lucky for you, we're here to detail exactly what those steps are – read on for more.
Why Is It Important To Protect Your Hair While You Sleep?
You want your locks to be looking their best – which means that they're moisturized, silky smooth, and full of body.
One of the easiest ways to ensure that your hair looks and feels healthy is by taking care of how you wear your hair to bed and ensuring that you protect your tresses while you sleep.
These are the reasons why you want to protect your hair while you sleep:
May Help With Hair Growth
Poor sleep is damaging for so many reasons, causing greater stress, digestive, and skin problems – to name a few.
But it may also be limiting your hair growth. You need sleep for your body to synthesize protein – and a lack of sleep will limit this and the regeneration of your body's cells.
Your body also won't absorb the nutrients it needs to support healthy hair (or anything else), which might, in turn, inhibit hair growth.
The takeaway? Make sure you're catching those nighttime 'zzz's for beautiful, long locks.
Reduced Breakage, Tangles and Split Ends
Knowing how you should wear your hair to bed will help you to reduce any tangles, breakage, frizz, or split ends.
Tossing and turning whilst you sleep – or try to sleep – will only create friction between your hair strands and your pillow.
You may therefore end up with nasty knots which can take serious time to untangle.
Brittle or frazzled hair requires more maintenance to undo than to prevent in the first instance.
Wearing your hair to bed in the best possible way for your hair type reduces the risk of these knots and any breakage.
Like this? Then also read our guide on when to wash your hair before a wedding.
How Should You Wear Your Hair To Bed?
Brush Your Hair
Yes, it's obvious but essential. You need to be brushing your hair before you go to sleep.
This will distribute your natural oils, spreading it from your scalp right to your ends, and therefore helping your hair stay hydrated.
Remember to use a hairbrush that works best for your hair – whether that be a wide-toothed comb or a paddle brush.
Tie Your Hair Up
Though controversial, we said what we said – you should be sleeping with your hair up.
However, this comes with a caveat.
If you tie your hair up in a style that's too tight, you may cause hair loss as a result of the pulling and tension.
You want to be tying your hair up while you sleep in a loose hairstyle in order to prevent tangles and breakage that may arise from friction.
Tying your hair in a high bun using silk hair scrunchies is one of the most damage-free hairstyles.
You'll also be adding some serious volume to your hair roots if you do so.
Alternatively, choose a braid style to sleep in. This will avoid damage and add beautiful waves to your locks.
Avoid Metal Or Rubber Elastic Scrunchies
If you have not already moved on from nasty hair scrunchies with metal tags, where have you been?
Jokes aside though, you want to be using a fabric – or, best of all, silk – scrunchie in order to tie your hair up.
Definitely avoid any rubber or metal hair bands, as these will only tug at your hair and will likely cause breakage.
Dry Your Hair Thoroughly
Repeat after us: I shalt not go to bed with wet hair.
No, but really, ensuring that your hair is thoroughly dry when you sleep is one of the most important tips to know for how you should wear your hair to bed.
When your hair is wet, it's vulnerable to breakage and damage as your hair follicles are weaker.
Any added friction from tossing and turning will only exacerbate this.
If you're getting in late from an event and need to de-grease your locks, you can use a dry shampoo.
Alternatively, if you must sleep on damp hair, use an overnight treatment on it in order to reduce damage and lock in hydration.
Massage Your Scalp
Your scalp's health is as important as your hair health if you're keen on hair growth.
Giving yourself a scalp massage will stimulate blood flow to your hair's follicle, which in turn may help with growth.
It's also a great way to give yourself some love and to unwind at the end of a hectic day.
Just use your fingers to massage your scalp as if you were working shampoo into a lather.
Use A Silk Sleep Cap Or Scarf
As we've mentioned, your hair is likely to become easily tangled when you sleep, which may result in split ends, frizz, and breakage.
Using a silk or satin cap is a fantastic way of minimizing this friction, helping to lock in moisture as your natural oils spread down your hair shaft.
If you don't have a cap, you can always use a satin scarf.
This step is also great in combination with the following – and it can help to preserve your blow-dry for longer.
Use An Overnight Treatment
Whether it's a cream, serum, or hot oil treatment, you can maximize your beauty sleep in order to hydrate your hair.
With a hot oil treatment, you can warm up oil like argan oil or coconut oil, before smoothing it over your strands from root to end.
If you can wear a cap or scarf over your head, this will encourage the oil to penetrate deeper into your hair's cuticle, which in turn supports the hair follicle and will intensely nourish your scalp and strands.
Don't forget to wash the oil out the following morning.
Alternatively, there are plenty of hair masks and deep conditioning treatments that you can use to boost your hair's shine, moisture, and manageability.
Remember to prioritize natural ingredients and try to avoid nasty chemicals like sulfates or phthalates.
You don't need to be doing this step every week – just once or twice a month should work.
Invest In A Silk Pillowcase
If you can spring for it, you want to be changing out your pillowcases for silk ones.
Cheap materials can increase static between the case and your hair, which will in turn increase the likelihood of frizz.
Your hair – and skin – will benefit from a silk pillowcase, which minimizes friction or pulling thanks to its small fibers, and adds a touch of luxury to your sleep.
Best Method For Curlies
Brush your hair with a wide-toothed comb, and add any overnight treatment that you want, smoothing it into your ends.
Remember to use hair bands that are fabric, and sleep with a silk or satin cap or scarf.
Curly girls can wear their hair to bed in many ways. You can choose from a variety of braids, use rollers, or even the pineappling method.
Pineappling is where you gather your hair at your head's crown. Grab a scarf and tie it around the base of your gathered hair. Your curls will then tumble down around your head, making you look a little like a pineapple (in a good way).
Best Method For Straight Hair
Brush your hair, and ensure that it's fully dry before bed. If it's a little oily, spritz some dry shampoo on your roots.
Massage your scalp with your fingers.
Grab a satin or silk cap, pillowcase, or scarf, and steer clear of any hair scrunchies with metal tags.
Tie your tresses up, but in a style that doesn't pull. A high bun is good, as are braids.
If your tresses need some TLC, use an overnight treatment to give them some love.
Hair Mistakes To Avoid When Going To Bed
Sleeping With Wet Hair
If we haven't yet explained how important it is to avoid sleeping with wet hair, consider this your final warning.
Firstly, you shouldn't be needing to wash your hair every day.
That will strip your locks of their natural moisture and will only encourage dryness, frizz, and breakage.
Plus, if you sleep with wet hair, you're more likely to need to use styling tools in the morning, which will result in greater damage (heat tools are notoriously damaging for hair).
If your roots are looking a little oily, you can spritz on some dry shampoo – which may in fact help with styling the morning after.
Alternatively, and if you must sleep with wet hair, use a leave-in conditioner or hydrating treatment into your locks so that you reduce moisture loss.
Sleeping With Your Hair Tied Too Tight
You should be sleeping with your hair tied up – or braided – so that you are minimizing the risk of damage from static and friction.
But a hairstyle that's too tight – like a ponytail – will only promote pulling and breakage, particularly at your hairline.
A high bun (not too tight!) is ideal, as is any braided hairstyle. You're also adding natural waves without requiring a heated styling tool.
Sleeping With Rubber Elastic Ties
Sleeping with your hair tied up is a yes.
Sleeping with your hair tied up using a scrunchie that's made of rubber or has those nasty metal tags on? A huge no.
Using a fabric or silk scrunchie mitigates this, and means you won't have those annoying ridges in your hair when removed.
Sleeping In A Dry Room
You'll likely know that a dry room can cause skin chaos, but it can also wreak havoc on your hair.
Purchasing a humidifier can help to avoid both dry skin and dry hair.
Alternatively, remember that you can always boost your hair's moisture levels via an overnight treatment like a deep conditioner or hot oil treatment.
Using a silk cap or scarf will also help to seal that moisture in – as well as reduce friction between your strands and your pillow.
Disclaimer: This site is not intended to provide professional or medical advice. All of the content on LovedByCurls.com is for informational purposes only. All advice should be followed at your own discretion. Ingredients may change at any time so always check the product label before using. Check our full disclaimer policy here.
Alice is an experienced writer and researcher with a background in the Creative Arts. She is a published poet and is currently completing her Ph.D., having worked in a variety of industries, including as a theatre dramaturg.
Alice is passionate about the environment, so is always on the lookout for the best zero-waste products that are vegan and cruelty-free.