In an effort to save the environment and avoid harsh chemicals, consumers are now opting for products that will help save the planet. Can shampoo bars live up to these demands? Let's take a look and delve into the pros and cons of shampoo bars.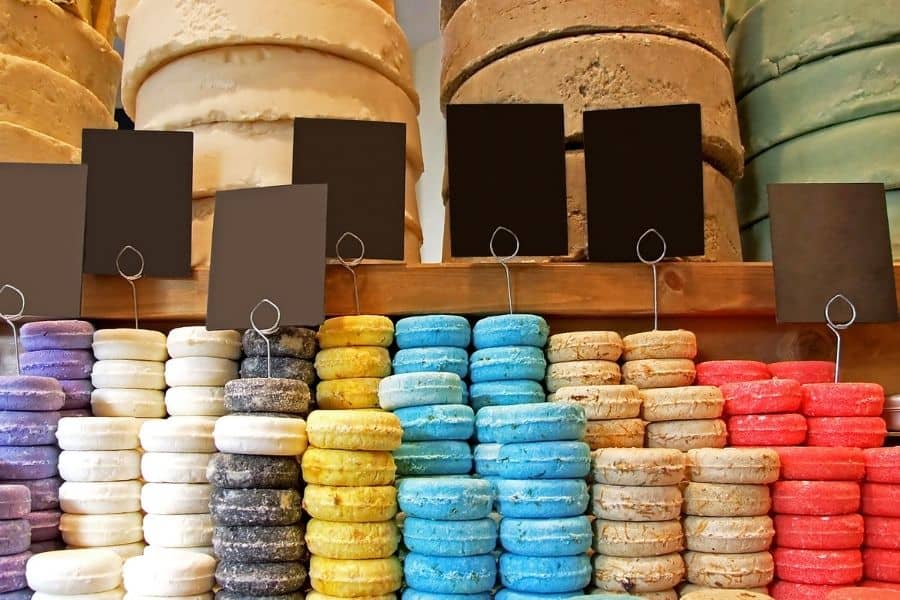 Shampoo bars are often in the spotlight because they offer tonnes of benefits that regular shampoo can't compete with.
There are various pros and cons when switching to shampoo bars. They are a gentle alternative to many of the harsh bottle shampoos on the market and they do not strip the hair of its natural oils. Furthermore, they often come in reduced packaging.
However, not all shampoo bars are created equally. Some shampoo bars contain a high pH level which can lead to a dry scalp.
This post contains affiliate links and we may earn if you click on them (at no extra cost to you). Please read our full disclosure policy here.
What Are Shampoo Bars Made From?
Most shampoo bars are made from a blend of vegetable oils, essential oils, and herb-infused oils.
Coconut oil, sustainable palm oil, and olive oil are some of the main ingredients that you can expect to see on the back of the packaging.
No two shampoo bars are the same. This means that some will lather up very well whilst others will lather up very little.
This is often because shampoo bars do not contain SLS. SLS is the main ingredient in shampoo that helps to form a nice lather.
For an SLS-free shampoo bar, try Ethique'z Eco-Friendly Heali Kiwi shampoo bar.
---
It is made from sustainable natural shampoo and is 100% soap-free. It is also suitable for vegans and 100% compostable.
However, you don't need to look for a product that contains SLS because many of these shampoo bars contain a gentle alternative that cleans the hair and scalp effectively.
Now, before you make your decision to change your hair washing routine, let's look at the shampoo bars' pros and cons.
Also Read: Everything You Need To Know About PH Shampoo Bars
Shampoo Bars Pros
1. Cleanses Hair
When looking at the pros and cons of shampoo bars, the first thing to consider should be whether the shampoo bar will cleanse your hair.
A huge benefit to switching to a shampoo bar is their ability to wash away any residue left from regular shampoo that contains chemicals.
As they often contain a gentle formula, they're able to remove product build-up created by regular shampoos and silicone conditioners.
This will leave your hair feeling cleaner and softer as a result.
2. Natural Ingredients
The use of natural oils and scents makes shampoo bars a great option for those with a highly sensitive scalp.
Many shampoo bars will not contain sulphates, alcohols, parabens, silicones, or other synthetic ingredients that you'll want to avoid.
3. Healthier Hair
Without the use of chemicals, it's likely that you'll experience a change in the texture and appearance of your hair.
If regular shampoo causes your hair to be oily or dry, then it's probably because the harsh ingredients are stripping your hair.
Shampoo bars are gentler on the hair and scalp. This makes them a better option for those with damaged hair in need of restoration.
4. Long Lasting
It's not surprising that shampoo bars last longer – they are very concentrated!
Even though they don't lather up in the same way as typical shampoo does, that doesn't mean that you'll need to use more of it.
A few strokes across your hair should be enough to coat the hair and scalp.
5. Convenience
Shampoo bars are more convenient than bottled shampoos simply because they are easier to store.
They won't spill and you can take them anywhere with you without worrying about them taking up too much space.
Did we mention that they last a very long time too?
6. Cost-Effective
When weighing up the pros and cons of shampoo bars, money tends to be a deciding factor.
Many shampoo bars appear expensive at first glance but that's definitely not the case. A shampoo bar is typically the equivalent of 3 bottles of shampoo!
It will save you a lot of money in the long run.
7. Plastic Free
A huge bonus is knowing that you can help the environment by reducing the use of plastic and switching to sustainable packaging.
A simple swap to a biodegradable shampoo such as this can make a huge difference.
8. Multi-Purpose
It's not often recommended that you use regular shampoo as a body wash.
However, due to the gentle ingredients contained in shampoo bars, it makes them a suitable option to use on the body and face. This can save you money!
9. Travel-Friendly
When traveling, it is far more convenient to pack a shampoo bar. They take up less space in the bag and they are extremely lightweight.
There's no worry about spillage or leaking either.
Also Read: Does Shampoo Expire? What You Need To Know
Cons
1. Wax Build Up
Sometimes, the high amounts of oils in shampoo bars can react with the water and produce a layer of wax on the hair.
This can be remedied with an apple cider vinegar rinse but it can additionally be a problem for first-time users.
2. Tangles and Frizz
Using a shampoo bar by rubbing it on the whole head of hair, can lead to tangles and knots.
If you have curly hair or hair that often becomes tangled, it's best to rub the shampoo bar in your hands and then rub your hands through your hair to create a mild lather.
3. May Take Longer to See Results
With some shampoo bars, there is a transition period where the hair needs to get used to the sudden change.
If your hair is used so synthetic ingredients then it could take it a while to adjust to the gentle formula of shampoo bars.
This can result in dry hair for a short period of time.
4. Shampoo Bars Need Proper Storage
Storing shampoo bars correctly is essential.
If you leave them in a damp place or the wrong kind of container where no air gets inside, then they can end up falling apart or becoming too soft.
5. Expires Quicker
Typically, shampoo bars have a shelf life of around 3 – 6 months after opening, but that does depend on how they are stored.
As they do not contain additives, they will expire sooner regardless.
The shelf life can be extended by placing the bars in a container that allows them exposure to air.
6. Ingredients Are Not Always Obvious
Although one of the pros of shampoo bars is natural ingredients, one of the cons is that you don't always know what's in them.
Some companies will not include a full list of ingredients on the packaging or it might not always be obvious if a harsh chemical has been replaced with something that could be equally damaging to the hair.
Doing some research on the product and looking up each ingredient should put your mind at ease.
7. Can Interact with Hard Water
Hard water can react with the oils in the shampoo, which can result in a waxy residue left sitting on the hair and scalp after washing.
This is something to consider if you live in an area with hard water.
8. Doesn't Cater for Specific Hair Types
Some hair types need more moisture than others, which means you need to be careful when selecting a shampoo bar.
You may also be sensitive to coconut so you would need to use a coconut-free shampoo.
Some shampoo bars can be very drying on curly hair, so trial and error is usually required.
When considering the shampoo bars' pros and cons, this is an important point as not everyone has the time, money, and effort to find the right shampoo bar for their hair type.
If you like trivia, I actually wrote a post on the rarest hair type there is and the answer may surprise you!
9. Additional Clarifying Rinse May Be Needed
Many shampoo bars need to be followed up with an apple cider vinegar rinse to remove any potential residue and ensure the hair is left clean and shiny.
It's worth considering this before committing to a shampoo bar.
---
Disclaimer: This site is not intended to provide professional or medical advice. All of the content on LovedByCurls.com is for informational purposes only. All advice should be followed at your own discretion. Ingredients may change at any time so always check the product label before using. Check our full disclaimer policy here.
Coralle is an experienced beauty writer with a passion for wellness, women's health, and sustainability.