When it comes to curling irons, the options are essentially endless, and choosing the right appliance for your hair can feel extremely daunting. Ceramic vs titanium curling iron, which is the right one for you? In this article, we compare these two curling irons to see which one is the best.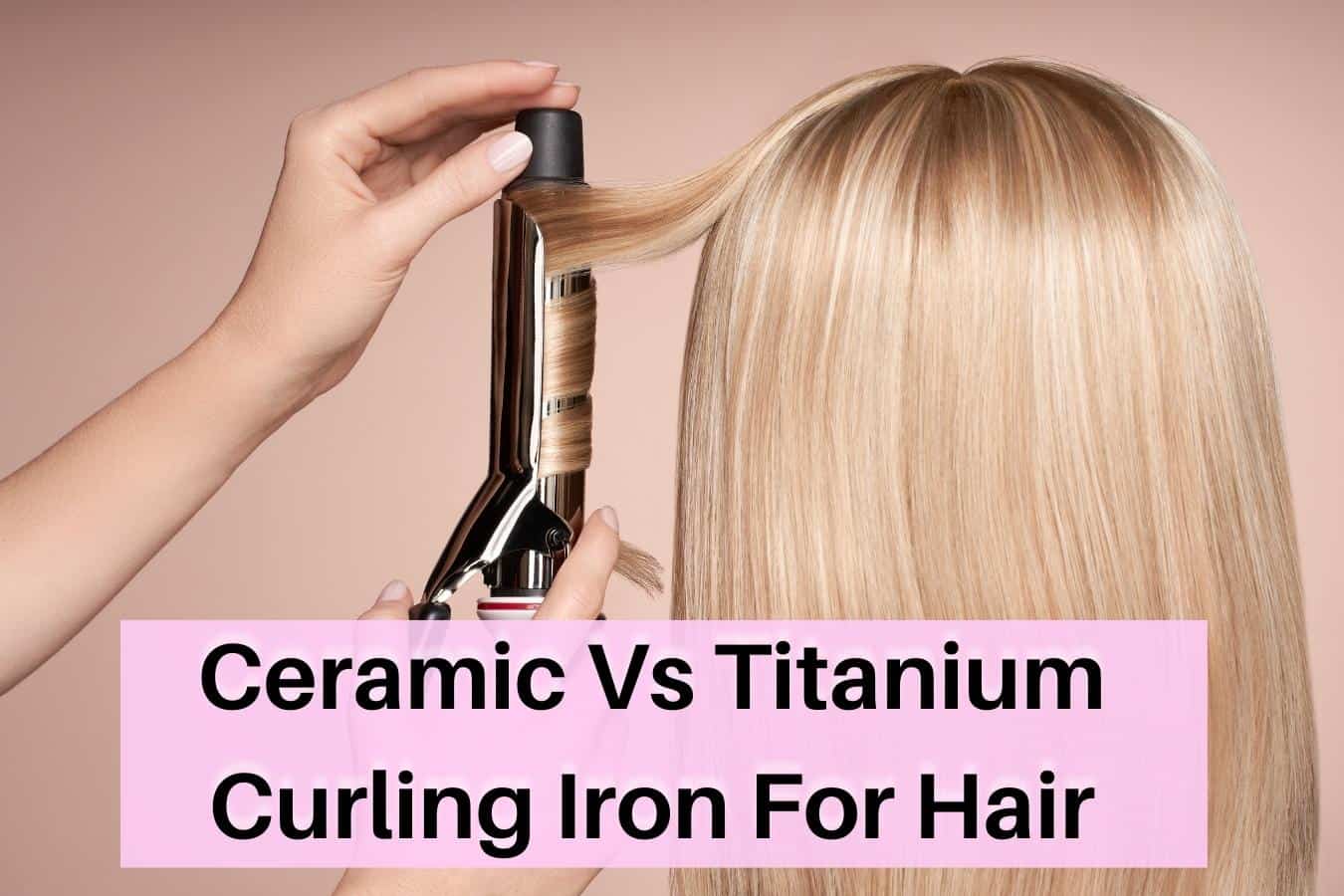 Ceramic curling irons are a favorite amongst consumers as they have a smooth surface that is gentle on hair. However, titanium curling irons are preferred by professional stylists as they heat up faster and heat your hair from the surface instead of from within, therefore curling the hair quicker. Both options disperse negative ions to keep your hair smooth and frizz-free.
Choosing the right type of curling iron
In almost every industry, today the market is saturated with options.
Consumers are more confused than ever when it comes to choosing the right option, even from the most specific of categories.
It's no different when it comes to hair appliances, every stylist and blogger will give you a different opinion as to which curling iron you just have to have. 
When choosing a curling iron, there are different materials, sizes, shapes, types of clamps, and of course, brands that you can choose from.
Each and every option will produce various sizes and styles of curls in your hair.
Some irons are best for certain types of hair, and there are even curling irons for professionals, and those that are best for daily use that are more gentle on your hair. 
While, of course, you will need to think about the size, shape, and brand of your curling iron before purchasing, the most important factor to decide on is what kind of material you want it to be.
This is a vital first choice because the material will make a big difference in how you use the iron, what it does to your hair, what the curls will look like, and even how long the curling iron will last.
types of curling irons
Curling irons can be made from titanium, ceramic, Teflon, tourmaline, or even other types of metals. However, titanium and ceramic curling irons are by far the most popular. 
These two options have become the leaders of the market as they keep your hair safe and smooth and work quickly to create the beautiful curls you are looking for.
They are also durable and lightweight and can resist the intense heat needed to successfully curl your hair. 
Now, let's learn the specifics of each of these materials, including the advantages and drawbacks of each, so you can confidently decide which is the better option for your life and your hair.
Ceramic Curling Irons
You may know the word ceramic in homeware, cookware, tiles, and even construction materials. So how can a curling iron be made from ceramic material?
Ceramic curling irons are made from a non-metal material.
While some have ceramic wands, other options are simply ceramic-coated, and there is a big difference between the two. 
Curling irons with only a ceramic coating are actually inferior products, they will not last more than a few months and will not work as well on a daily basis.
So if you decide to go for ceramic, make sure the wand is made completely from ceramic material.
Now that you understand what a ceramic curling iron is, let's go through the pros and cons of this option.
Pros of Ceramic Curling Irons
Ceramic curling irons are the most common choice among consumers today, and there are a lot of reasons why.
It heats the hair evenly.
Ceramic material is more gentle on the hair.
It's great for thin or fine hair.
It is less damaging than other materials.
Ceramic irons are durable and long-lasting.
It produces negative ions that leave hair smooth and silky.
Ceramic irons typically have an affordable price tag.
As great as a ceramic curling iron may seem, with any appliance, there are also some downsides.
Cons of Ceramic Curling Irons
The iron takes at least two minutes to heat up.
The lower heat may not be as optimal for thick or coarse hair.
Titanium Curling Irons
Titanium curling irons are often preferred by professionals as they produce a highly intense heat that can be damaging to hair if not used properly. 
The reason titanium curling irons are so popular is that it works efficiently and can curl your hair with only a few passes as opposed to having to hold the curl for a significant amount of time.
Titanium has an extremely high heat allowance and can reach intense temperatures without overheating or cracking, however, that means that you need to be careful when using a titanium curling iron not to burn your hair.
Pros of Titanium Curling Irons
It heats up in seconds.
It curls hair quickly and efficiently.
The material is both lightweight and durable.
Titanium produces negative ions that leave hair smooth and silky.
It is great for coarse or thick hair.
The smooth metal ensures snag-free curling.
The intense heat can create curls that will last for hours.
Cons of Titanium Curling Irons
While titanium curling irons have a lot to offer, there are some negative aspects to this choice.
Because of the intense heat, a titanium curling iron needs to be used with caution.
It is not the best option for beginners.
The heat increases the chance of hair damage.
They can be expensive.
You may already know whether a ceramic or titanium curling iron is the best option for you, but in case you are still not sure, in the next section, we are going to go through a side-by-side comparison of the two materials.
Ceramic vs. Titanium Curling Iron: The Differences
In the following table, you can easily see the specific similarities and differences between ceramic and titanium curling irons.
| | | |
| --- | --- | --- |
| Features | Ceramic | Titanium |
| Best For | Thin, Fine Hair | Coarse, Thick Hair |
| Time to Heat | 2 Minutes | 15 Seconds |
| Max Temperature | 230 F | 450 F |
| Price Point | $20-$30 | $40-$70 |
| Best Aspects | Affordable Price PointNo Cold SpotsLess Damaging to HairGentle Heat for All Users | Lightweight ; Durable Can Reach High TemperaturesHeats Up QuicklyCurls Hair Efficiently |
| Worst Aspects | Can Crack Over TimeTakes Longer to Curl | Increases Risk of Hair DamageNot Great for Beginners |
Hopefully, you now have a complete understanding of the details of both ceramic and titanium curling irons.
If you have chosen the material you think is right for your iron, the next step is deciding which curling iron you'd like to purchase.
Best Ceramic And Titanium Curling Irons
Choosing the right, size, shape, and brand of curling iron is almost as important as choosing the right material.
There are an incredible number of options for both ceramic and titanium curling irons, so to help you narrow it down, we have picked our top three for each!
Best ceramic Curling irons
Best Titanium Curling Irons
While you are searching for the right curling iron, you may notice that there are far more ceramic options than titanium options.
As it is easier to use and more affordable option, they are arguably the more popular choice.
But luckily you now know whether you want to opt for ceramic or titanium and search accordingly!
How Do Curling Irons Work?
Before we dig into the differences in the material that makes up a curling iron, it is vital that you first understand exactly what these tools do and how they work.
Back in the day, women used to use plastic or metal rollers in their hair to create luscious curls, but they would have to wear them for hours!
Women needed to curl their own hair in sections around the rollers when damp and let it dry in these shapes before removing them.
Luckily, technology has advanced and you can now create a head full of curls in just minutes with a curling iron!
The reason it works so much faster is because of the intense heat the device exudes, all while keeping your hair healthy and silky smooth. But you may be wondering, just how does it do that?
Well, curling irons today are made of either titanium, ceramic, or even a variety of other less popular metals.
The reason these options were chosen by the engineers who created them is that they can withstand great heat without causing damage to your hair.
The heat itself is a vital component as it breaks down the hair's hydrogen bonds and changes your hair's texture so that it is malleable.
That means that while it is wrapped around the curling iron, it is being molded and shaped and the intense heat will ensure it stays in that shape after removing the appliance.
While all curling irons are attempting to do the same thing, create curls in your hair, not all irons are created equally and it is important that you choose the right one for the best results.
Final Thoughts
Hopefully, this article has taught you the similarities and differences between these two popular materials as well as the many pros and cons of each one.
While ceramic curling irons tend to be more popular among most consumers, titanium irons have the edge that professionals want and need.
So to recap, a ceramic curling iron is a great choice if you are on a budget, are new to curling your hair, or have fine or thin hair. Whereas a titanium curling iron is great for quick, intense curls, with a lightweight and durable appliance that heats up in just seconds.
Frequently Asked Questions (FAQ)
Which curling irons curl hair better?
While titanium curling irons work with a higher heat tolerance and can therefore create curls more quickly than ceramic curling irons, they can be difficult to use and over-curl or even burn your hair if you are not used to the heat. 
Is a tourmaline curling iron a good choice?
As you shop for curling irons, you may notice that some ceramic and titanium options have tourmaline as well. Tourmaline is a great option for your curling iron material but it can cause an increased price tag. 
What kind of curling iron protects you best against frizz?
Both ceramic and titanium curling irons are great at protecting against frizz. The negative ions that are produced in the heat are sure to create smooth silky hair no matter which material you choose. 
Are ceramic or titanium curling irons safer for your hair?
While technically both materials, ceramic and titanium, are safe to use on your hair because titanium can get up to such intense heat, you can more easily burn your hair if you are not used to this material. 
Disclaimer: This site is not intended to provide professional or medical advice. All of the content on LovedByCurls.com is for informational purposes only. All advice should be followed at your own discretion. Ingredients may change at any time so always check the product label before using. Check our full disclaimer policy here.
Dee has been following the Curly Girl Method for over four years and is our in-house Curly Girl expert. She has a keen interest in natural haircare and has tried and tested her share of CGM products. She has a photographic memory of most sulfate and silicone-free hair products available on the high street and she's always happy to recommend you her favorites.