Balayage hair is low maintenance and easy to take care of at home. Part of that is knowing how often to condition balayage hair to minimize damage and preserve your sunkissed highlights for as long as possible.
Ideally, you should condition balayage hair once a week and deep condition once a month. Use a moisturizing color-protecting conditioner to nourish your locks and maintain hydration. Bleached hair tends to dry more easily, so keep that in mind when determining how often to condition balayage hair.
What Is Balayage Hair?
Balayage is a French word that describes the technique used to produce the hairstyle and not the hairstyle itself.
It means to "sweep," as in the motion your stylist mimics when painting highlights onto your hair.
Your stylist will use this technique to add subtle and soft highlights that create a dimensional look.
When done right, the highlights should blend seamlessly with your base color.
This is what makes balayage hair famous — it creates a natural-looking but striking hairstyle that's often described as beachy and sun-kissed.
Here are some answers to commonly asked questions to help you understand how balayage hair works:
Is Balayage Hair Suitable For All Hair Types/Lengths?
Balayage is a freehand coloring technique that creates a bespoke hairstyle.
So whether you have light, dark, straight, wavy, or curly hair, the method can be tailored to suit you.
In addition, balayage is suitable for most hair lengths, except super short or cropped hair.
Typically, the color works well if it's a shade or two lighter than the base color.
Also Read: The Best Non-Toxic Hair Smoothing Treatments
Is Balayage Damaging For Hair?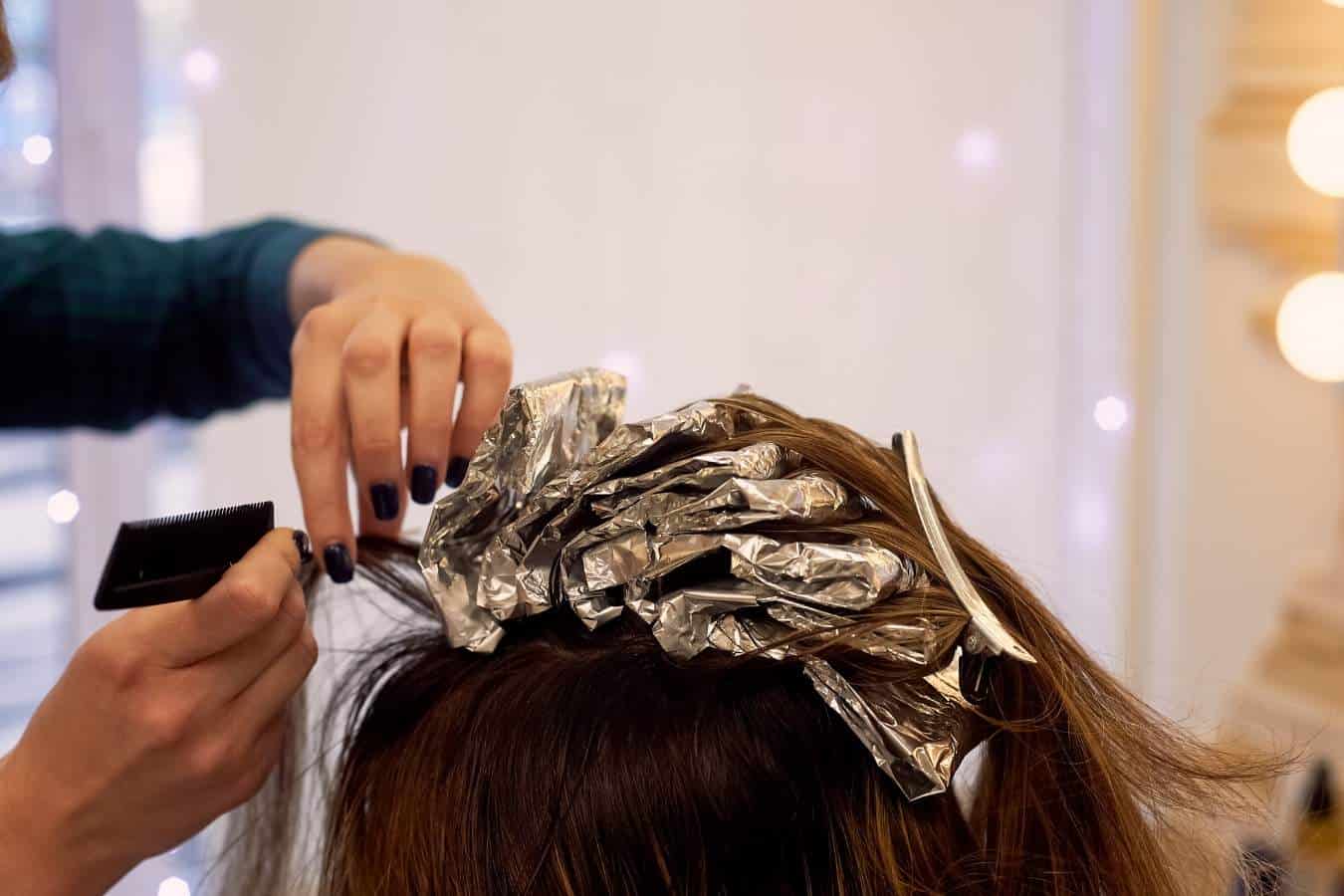 Balayage hair is created by applying bleach or color dye to your hair. This strips color from your hair, leaving your hair dry. If the damage is not treated, hair becomes brittle and prone to breakage.
That's why it's important to condition regularly.
The good news is balayage is less damaging than traditional coloring techniques since you're not saturating your hair with bleach from root to tip.
In addition, you don't need a lot of touch-ups, so your hair won't suffer from too much chemical processing treatment.
What's The Deal With Full Balayage And Partial Balayage?
Full balayage involves lightening all your hair sections to create a more radical effect.
On the other hand, partial or mini balayage is only done on some areas of your hair.
With partial balayage, the highlights are usually done on the sections that frame your face for a more subtle look.
What's The Difference Between Balayage And Traditional Highlights?
Highlights tend to have a more structured pattern from root to tip.
They are created by covering precise sections of your hair with aluminum foil. Balayage hair rarely ever involves foil.
It's more of a visual freehand painting technique customized to your hair type and texture.
In addition, the color is applied from the midshaft, and the hairstyle looks more subtle and natural.
This makes balayage easier to maintain since you don't have to worry about regrowth touch-ups.
What's The Difference Between Balayage and Ombre Hair?
Balayage is a technique used to create a hairstyle with subtle and dimensional highlights.
Ombre is a two-tone hairstyle created using the balayage or hand-painting technique. However, ombre tends to be more dramatic than conventional balayage hair.
Your hair will have a darker shade at the top and a lighter shade at the bottom. There's a gradient of color in between for a natural but more dramatic finish.
How Often Should You Condition Balayage Hair?
Since we have established that balayage can leave your hair dry, it means that conditioning your hair is more important than ever.
So, when it comes to how often you should condition balayage hair, be sure to use a conditioner after every wash, which should be at least once a week.
The conditioner you use should be formulated for colored hair and free of sulfates and silicones.
Some of the best conditioners contain natural oils like argan oil and coconut oil that help to moisturize your hair.
Besides using a regular conditioner, you should also take the time to do a deep conditioning treatment at least once a month.
For instance, you can apply a moisturizing mask and a protein treatment that will hydrate and strengthen your locks.
The hair mask treatment will also leave your hair with vibrant color and glossy tresses.
Homemade hair mask recipes for colored hair often include avocado, eggs, honey, banana, and mayonnaise.
These ingredients will provide the intense nourishment and moisture needed to keep your balayage hair healthy.
Applying lightweight oils like argan and avocado oil, in particular, will help boost the health of your hair. However, keep in mind that while deep conditioning can revitalize your hair, too much will weigh down your hair.
So, it's best to use deep conditioning treatments sparingly.
What Are The Signs That Your Bayalage Hair Needs Conditioning?
With balayage hair, you can go longer in-between touch-ups.
However, your hair can start looking and feeling dull and dry, especially the lightened, bleached sections.
That's because the lightened areas are vulnerable to heat styling, hard water, chlorine, and UV rays.
This leads to the following problems that indicate your hair needs conditioning:
Color fading or discoloration
Frizz or flyaway hair
Brittleness and breakage
Split ends
Rough and coarse hair
How Long Does Balayage Usually Last?
Generally, balayage hair lasts for 3-4 months or eight to 12 weeks, depending on who you ask.
The biggest advantage of balayage hair is that it lasts longer because there's no need to touch up your roots.
Also, the hand-painting technique blends well with your hair, allowing you to rock the natural look for longer.
This is especially so if you go in for a glossing treatment between your regular maintenance.
However, when the color becomes dull color, then it's time to refresh your hair with new subtle highlights. If you want to make balayage last longer, keep these maintenance tips in mind:
Protect your hair from sun exposure. Prolonged sun exposure can cause color fading and brassy tones. Cover your balayage hair with a scarf when outside. But if you want to show it off, it's best to use a sun-protection product for your hair.
Avoid chlorine. Chlorinated water or swimming pools can ruin your beautiful and subtle highlights by turning them brassy. To avoid the dreaded swimming pool green hair, wet your hair thoroughly and apply conditioner before you go swimming. You can also use a swimmer's shampoo to wash your hair right after swimming.
Limit heat styling. Remember, balayage hair has sustained some damage from the bleaching. Excessive heat styling will cause more damage, so try to minimize the blow-drying and hot iron curling. When heat styling, apply a heat protector and use a lower setting.
Wash less frequently. Unless you have very oily hair, avoid washing your hair every day as this strips away the glossiness. Using a dry shampoo in-between helps.
Disclaimer: This site is not intended to provide professional or medical advice. All of the content on LovedByCurls.com is for informational purposes only. All advice should be followed at your own discretion. Ingredients may change at any time so always check the product label before using. Check our full disclaimer policy here.