If you like to color your hair and you're also considering perming it, the question begs: Should you perm or color your hair first? Here's what we found.
Quick Answer To: Should You Perm Or Color Hair First?
Always perm your hair first before coloring, and wait at least two weeks in between treatments. Coloring hair before immediately perming it will cause the perm to fade your new hair color, whereas perming hair before immediately coloring will loosen your newly-developed curls.
What Is A Perm?
Whether you're looking for the super tight coils of the 80s or a more easy-breezy look with looser waves, a perm is a great way of mixing up your hair look.
Typically, a perm can last anywhere up to six months, depending on the degree of aftercare you perform.
A perm is a chemical treatment that changes your hair texture.
Hairstylists will use both a perm lotion to break apart the hair's bonds and reform them into either curls or waves (depending on the width of hair rod used).
A neutralizer is added to the hair once this perm lotion has been removed in order to prevent further perming and help to set the perm.
Modern perms are ammonia free and can be a neat way of achieving hair that's everything from coiled to curled to waved.
Whilst a professional perm performed by a hair stylist shouldn't cause any serious damage to the hair, there will nonetheless be some damage caused by a perm, as it does require the application of chemicals to hair strands.
That said, it's nowhere near as damaging as other treatments like bleaching, and perm aftercare can help to maintain the perm and restore hair to its pre-perm health.
Can You Perm And Color Hair On The Same Day?
No, never perm and color your hair on the same day. If you do dye and perm your hair at the same time, you will most likely end up with seriously dry, damaged hair with terrible frizz and split ends. Plus, you may even experience hair loss, too.
When you get a perm, a neutralizer is applied to the hair in order to prevent any further perming and lock the curls into place.
The residue from this neutralizer will remain in the hair for 48 hours or so following the treatment.
As such, if you color your hair immediately after getting a perm, the color just won't take to your strands.
It will come out differently from what you expected and will fade faster than normal, as the hair cuticles can't close to properly seal the color in.
You should also avoid using semi-permanent hair dye if you've just got a perm, too. The perm will make your hair more porous, and overly porous hair won't absorb color evenly.
Similarly, it's worth avoiding highlights on the same day as a perm.
Highlights use a chemical activator in order to allow any bleach used to penetrate into hair strands.
The damage caused by this activator on top of the chemicals used in the perm may be too much for your hair, resulting in dry, dehydrated locks.
Should You Perm Or Color Hair First?
You should always perm your hair first before color. Remember to wait for at least two weeks between getting hair permed and coloring hair, otherwise, the oxidizer and neutralizer involved in the perming process will interfere with the deposit of color onto the hair.
If you color your hair before you perm it, the perm will immediately fade the color, and it may also damage your hair.
On the other hand, if you perm your hair before coloring it, your newly curled or waved hair will loosen after the coloring process if you don't wait the necessary time between treatments.
How Long After A Perm Can You Color Your Hair?
You should perm your hair first and wait at least two weeks (fourteen days) until you color it.
If you are really rushed, you may be able to manage seven days interim, but be aware that this is more likely to result in hair loss and damage.
A perm is a chemical treatment, and although we've come a long way since the perm of the 80s, it can still cause some damage to strands.
You, therefore, need to let hair recover in between getting hair permed and colored.
Hair is very porous over a perm, and if you immediately color it, not only will this risk an uneven dye job, but it may also result in overprocessed, dry hair.
It's wise to treat and deep condition your hair in the meantime, as this will support and restore your strands back to their pre-perm health.
Look for haircare products containing nourishing ingredients like argan oil and proteins like biotin, hydrolyzed wheat proteins, or hydrolyzed silk proteins.
Also, if your hair has been incredibly damaged by the perm process for whatever reason, then it's worth considering whether you should forego the coloring process.
Allow hair to completely recover following a bad perm, otherwise, you'll end up with any number of split ends, frizz, dehydration, and hair damage or loss.
You should also wait the same length of time (two weeks) before adding highlights to hair, as these use bleach, which can cause compound damage to newly permed hair.
How To Prep Hair For A Perm
If your hair is dry before you go in for your perm, you need to moisturize and condition it in advance.
Having healthy, hydrated hair before even getting the perm treatment is a great way of ensuring that your hair remains in as stable a condition as possible after the perm.
Don't forget that a perm may naturally make your hair appear a little shorter, so if your hair is already on the shorter side, you may want to grow it out so that you don't end up with a super short look. If that's what you want, however, that's totally your prerogative.
How To Care For Permed Hair: 5 Tips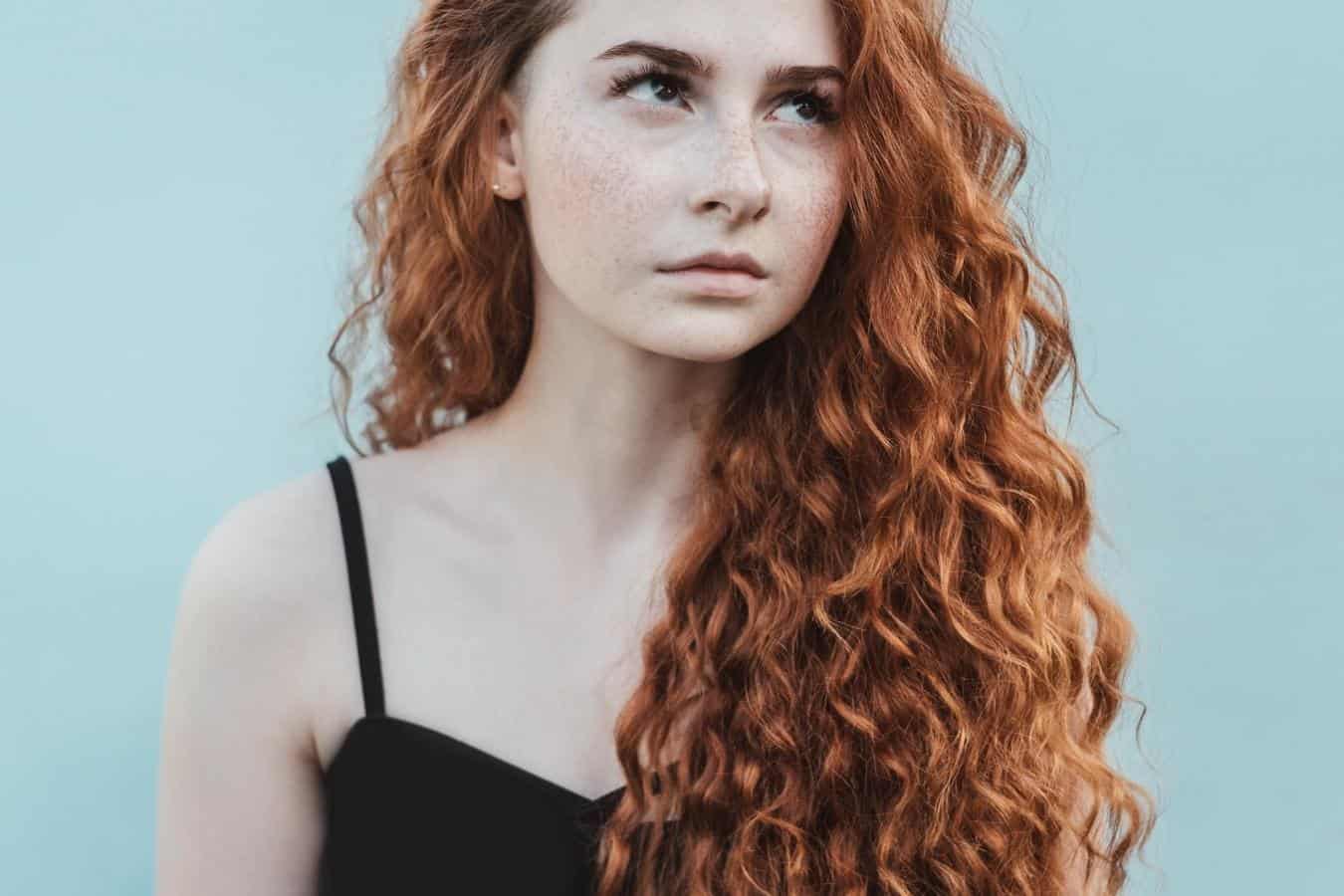 Don't wash hair for 48 hours
This is the most important post-perm step. Washing hair in the 48 hours following treatment will disrupt the perming process, and the chemical neutralizer will deactivate.
Use specific haircare
If you can find post-perm haircare (shampoos and conditioners), then it's worth going for these, as they'll be designed to restore hair's moisture and hydration levels.
Otherwise, go for haircare products designed for curly hair, as these will tend to contain nourishing and conditioning ingredients, including oils like argan oil and proteins.
Avoid haircare that contains chemicals like sulfates or parabens. These are wise to avoid before getting a perm, but they're particularly important to avoid once you've had the treatment.
Avoid heat
After a perm, your hair is more fragile, so it's worth avoiding heated styling tools if you can. If you must use any, then do so with a good heat-protectant spray. But after getting a perm, you should expect to be retiring your curling tongs for a while!
Sleek on silk
Switch up your pillowcases to either silk or satin to avoid the worst impacts of frizz on hair. Alternatively, you can always wear a silk or satin scarf or bonnet around your head so as to avoid tangling.
Stay away from chlorine and saltwater
If you're an avid swimmer, then you need to be sensible and use a cap when you hit the pool.
The chlorine will definitely interfere with your perm otherwise. It's also sensible to keep your head above water when swimming in the ocean, too.
How To Care For Colored Hair: 3 Tips
Use the right haircare
As with post-perm hair, you need to be using the right post-color haircare to ensure that your new look doesn't fade too fast. Choose shampoos and conditioners that are designed to preserve and protect hair color.
At the least, choose a low-sulfate shampoo, as this is less likely to quickly fade your hair color.
Deep condition
Whether you choose deep conditioners or masques, you need to be using products that will penetrate the hair shaft and hydrate from the inside out. Butters like shea are great, as are oils such as coconut and castor – but always choose the right product for your hair type.
Avoid heated tools
As with newly permed hair, newly colored hair will be more vulnerable and damage-prone. As such, it's essential to avoid exposing it to extreme heat, whether in the form of your hairdryer or heated styling tools.
If you can air dry hair, this will help to prevent the worst impacts of heat. Otherwise, always take care to use a heat protectant on colored hair to prevent the fading of color.
Which Is More Damaging: A Perm Or Hair Color?
Both hair treatments will cause some degree of damage to hair, which is why it's important to perform the best prep and aftercare. But comparatively speaking, coloring probably risks greater overall damage than perming.
Disclaimer: This site is not intended to provide professional or medical advice. All of the content on LovedByCurls.com is for informational purposes only. All advice should be followed at your own discretion. Ingredients may change at any time so always check the product label before using. Check our full disclaimer policy here.
Alice is an experienced writer and researcher with a background in the Creative Arts. She is a published poet and is currently completing her Ph.D., having worked in a variety of industries, including as a theatre dramaturg.
Alice is passionate about the environment, so is always on the lookout for the best zero-waste products that are vegan and cruelty-free.